About the Project
The University of Birmingham and Birmingham City Council are collaborating on a £1.7 million plan to revive the city's almost-forgotten Birmingham Shakespeare Memorial Library, housed in the iconic Library of Birmingham - and the first great Shakespeare library in the world, as well as one which from the very beginning has belonged to all the people of the city.
The 'Everything to Everybody' Project aims to:
Unlock the first, oldest and largest Shakespeare collection in any public library in the world
Revive and extend its founding principle that culture should be actively owned by everybody
Inspire Birmingham people and communities to explore, interrogate and improve the collection now
The project has been awarded £675,000 by The National Lottery Heritage Fund to open access to the collections and deliver an exciting programme of engaging events for people and communities across the city.
The project is also being generously supported by History West Midlands.
Please visit the Team section for more information on the project plans and for ways of being involved.
Why 'Everything To Everybody'?
One of the founders of Birmingham's Shakespeare Memorial Library was the radical preacher and lecturer, George Dawson (1821-1876). Dawson formulated the 'everything to everybody' ethos, which fuelled a significant movement for public welfare and cultural participation in nineteenth-century Birmingham, and which historians of the Victorian city from Asa Briggs to Tristram Hunt have acclaimed as a major stimulus to the development of modern civic culture.
Historians of empire such as Catherine Hall have asked important questions about how inclusive Dawson's vision and nineteenth-century Birmingham really were. In response to this, and to ongoing conversations about Black Lives Matter and the impact of Covid-19, the 'Everything to Everybody' Project will attempt to reopen Birmingham's unique Shakespeare heritage with people and communities across the city, identifying historic barriers to inclusion and endeavouring to overcome them.
E2E Response to Black Lives Matter: updated 16 July 2021
Last year we published a statement on our website in response to Black Lives Matter and how this impacted upon the 'Everything to Everybody' project. As a project which has, at its core, a dedication to engagement and inclusivity, it was essential that we acknowledge the unacceptable parts of history that our project focuses on – including remarks made by George Dawson in the 1860s during his trip to the USA (as discussed in Ewan Fernie's and Katherine Scheil's article published by History West Midlands, 'O Brave New World?' Shakespeare and George Dawson in America
The original 'Everything to Everybody' project plan included funding for restoration work on a statue of George Dawson with an accompanying series of events exploring Dawson's ideas. In light of the Black Lives Matter movement this no longer felt the right thing to do. After taking time as a team to explore and consider the issues and to hold extensive consultations with our Advisory Board and other project supporters, we came to the decision to use the funding that was allocated for the statue restoration for another purpose.
In late 2020 we commissioned the artist Mohammed Ali to produce an artwork in collaboration with pupils from Montgomery and Percy Shurmer schools in Sparkbrook. Created through a five-week project with the pupils with a permanent mural appearing at each school, the project has encouraged these young people to 'Tell Your OWN Story', remaking Birmingham's uniquely democratic Shakespeare heritage but also addressing issues of social exclusion and inequality in the process and exploring video, poetry, manga and mural painting in a series of dynamic workshops.
The new murals tell the stories of the vibrant and diverse communities of Sparkbrook and Balsall Heath featuring their unique narratives and local industrial history and allowing them to claim "a place in the story" (Antony & Cleopatra) of Birmingham's pioneering Shakespeare heritage.
Mohammed Ali, Artist and Curator and founder of Soul City Arts said: "We are aiming to empower children to boldly express themselves and their stories in an increasingly polarised society. Let's face it, our society isn't one where 'everything is for everybody' and we need to make a head start with young children to confront the inequality we see around us today."
Mohammed attended Montgomery Primary Academy himself. He went back to school with 'Everything to Everybody' to explore questions around exclusion and inequality as well as to raise awareness of Birmingham's unique Shakespeare heritage and open it for all, including the children at these schools.
Professor Ewan Fernie, 'Everything to Everybody' Project Director said: "The collaboration with Mohammed and his team of artists has been a fantastic way to open up Birmingham's Shakespeare collection with and for its young people. It was of the utmost importance to the founders of the world's first great Shakespeare library in the city that Shakespeare's plays include all sorts of people from Kings and Queens to clowns and gravediggers. Mohammed and Soul City Arts have taken that as a spur to imagine a truly inclusive city today and it's been amazing and instructive to see the children expressing and contributing their own stories, memories and experiences.
"The finished murals will leave a lasting legacy in Sparkbrook and Balsall Heath, bringing Shakespeare back to life for contemporary Birmingham."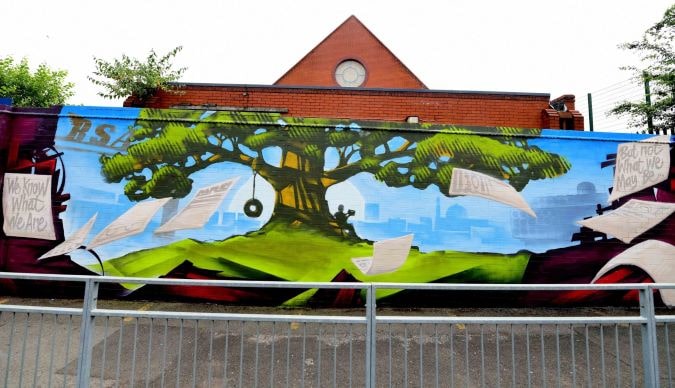 Mural by Mohammed Ali / Soul City Arts, outside Montgomery School. Image courtesy of Jas Sansi.
E2E Response to Black Lives Matter
'Everything to Everybody' is a project which aims to be as inclusive as possible. It seeks to work with different communities across Birmingham to revive and extend the city's unique Shakespeare heritage. It celebrates the fact that Birmingham's internationally significant Shakespeare collection was founded for the citizens of Birmingham, and it will explore with communities how to make it accessible, relevant, and engaging today.
In the perspective of the current Covid-19 crisis and the ongoing Black Lives Matter movement, we recognise our own privilege. We understand the need to take a fresh, hard look at our culture and its history, and we undertake to do that in relation to the particular heritage we are focussing on and seeking to repurpose for new times. The decolonization of British history and society is a long-term endeavour, part of the ongoing dismantling of systemic racism. Working constructively and receptively with our partner organisations and people and communities across Birmingham, we will do everything we can to promote that necessary and important change. In response to Black Lives Matter, we will be making concrete anti-racist changes to the project, to be announced in due course.
What Are People Saying?
Social
Twitter: @E2EShakespeare
Facebook: https://www.facebook.com/e2eshakespeare/
Instagram: @e2eshakespeare
YouTube: Everything to Everybody
Flickr: Everything to Everybody
Mailing list: Everything to Everybody
To get in touch please contact Nicola Gauld, Project Manager: n.gauld@bham.ac.uk